Hello there and welcome to the Feel the Love Blog Hop! If you've just come from
Jill's blog
then you're on the right track! If not, please head to the beginning over at Jamie's blog:
Glitter, Stamps, and Paper, Oh My!
Make sure to comment on each blog!!
My family doesn't really celebrate Valentine's Day, but we do usually give each other a card. I actually bought my husband a store bought card (gasp!!) but it was too cute to pass up! :) This card is a little girly so I'll probably send it to a family member.
To make this card, I cut a sheet of 8.5x11" paper in half. I inked the edges, ruffled the paper border to make it look a little more distressed and used Zots so that "Be Mine" could be popped up.
Recipe:
Patterned paper: My Mind's Eye - Penny Lane
Cardstock: DCWV
Twine
Ink: Tim Holtz - Frayed Burlap Distress Ink
Ric Rac: CTMH
Paper border: ColorBok
Adhesive: Glue Glider Pro, Zots
Stamp: Stampabilities
Bling: Hero Arts
Your next stop is
Kathy's blog
! If you'd like to win a chance for Blog Candy all you have to do is become a follower and make sure to leave me a comment with a way to contact you! On February 7th, I will use random.org to choose the winner! I've been a little under the weather lately so sadly I haven't been able to go shopping. (I know, I know! I'm missing out on all the fun new products!) So for my blog candy I'll give you a
$15 gift card to A Cherry On Top
. That's one of my favorite online shopping stores!!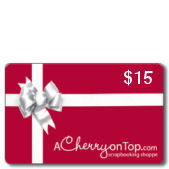 Here's the list of the blog line up in case you get lost:
1. Jamie at Glitter, Stamps, and Paper, Oh My!
2. Karel at One by One The Flamingos Are Stealing My Sanity
3. Nikki at The Glamorous Side of Scrapping
4.Liz at Skittles and Scrapbooks
5. Brittni at Life's Musings
6. Jesi at Jesi's Things
7. Ellen at Card Monkey
8. Jessica at Overjoyed Scrapper
9. Casey at Simple Joy Crafting
10. Jenny at Crazy about Cricut
11. Shannon at My Scrappy Creations
12 Meagan at Beyond Paper
13. Jessica at Creative Stamper
14. Jill at The Scrapoholic
15. Aimee at As Sweet As Honey <-----You are Here!
16. Kathy at Kathy and 3 Kids
17. Amanda at Something Sorta
18. Michelle at Holy Cricut
19. Kathy at The Beautiful Life
20. Angie at A Tuttle Time
21. Angela at Created with Joy